The Ministry of Education, Science, Technology and Innovation has distributed prizes and recognition to 45 students who received prizes in international and local competitions during 2022, as a new initiative with the aim of serving as a motivation for further work.
The total amount that the Ministry of Education has allocated for this support for these students is 28,300 euros.
The Prime Minister of Kosova, Albin Kurti and the Minister of Education, Arbërie Nagavci on this occasion have congratulated the students, parents and all the teachers for the prizes won and their extraordinary talent.
Prime Minister Kurti emphasized that one of the main pillars for sustainable economic development of Kosovo is quality education, therefore the Government of Kosovo in order to provide the best possible opportunities for our pupils and students has allocated a budget of 3.5 million euros for professional practice , scholarships for girls, vouchers for IT courses, STEM scholarships, and has provided support in various forms.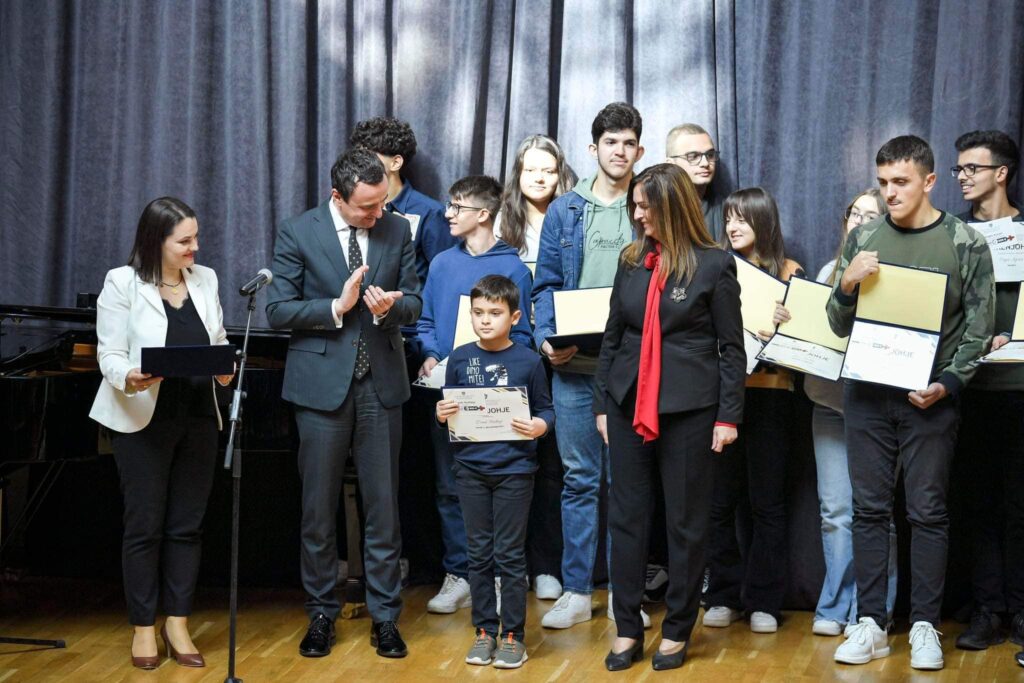 Meanwhile, Minister Nagavci said that she feels excited among these special students, who represented us with dignity in local and international competitions, receiving important prizes during the year 2022.
She emphasized that the Ministry of Education continuously designs and monitors the implementation of policies for the identification and support of students with exceptional abilities, talents and special talents in academic, creative and artistic fields, working with dedication to ensure the best conditions in schools, with spaces where students can express and develop their talent.
Minister Nagavci thanked the organizers of these competitions, who have decided that in the scope of their organizations, they have exactly the talents from our schools, promising that MESTI will seek every talent in every field and will create new opportunities to express it talent.
Otherwise, some of the competitions, which are organized by specialized NGOs and are a good opportunity to identify talents in different fields are: National Mathematics Olympiad, Republican Competitions of Young Physicists, Kosovo-Albania Mathematics Olympiad, International Mathematical Olympiad, European Mathematical Cup, Math Kangoroo.
Last modified: October 31, 2022